CLICK THE E MAIL ICON TO SEND ME AN E MAIL.




Testimonials from clients:

ma2zoh@aol.com:

Quite simply,the best in the business. Professional, honest.

Wilthestilt@yahoo.com:

Prompt,friendly and honest. Heartily recommend.

stbay@home.com:

extremely happy with how things worked out.

Here are two full testimonial letters from clients, who have obtained refunds on questionable autographs, these letters are reprinted with their permission:

Subj: Ebay buying
Date: 7/8/00 11:48:33 PM Eastern Daylight Time
From: robert.boyles@gte.net (ROBERT E BOYLES)
To: Richsprt@aol.com


Richard,
Just to give you an update, I have received full refunds from two sellers of Mantle and Dimaggio fake balls you authenticated for me. The third seller is nowhere to be found.
Bob Boyles




From: mshartzer@westal.net (Steve & Melanie Shartzer)
To: Richsprt@aol.com



Rich, Received Ruth cut and have already shipped back to seller. I just wanted to tell you again how much I appreciate all your help and guidance. Let me know if I can ever be of assistance to you. Once again, Thank You!
Sincerely
Steve
back to top
CLICK THE E MAIL ICON TO SEND ME AN E MAIL.




Professional Memberships:




The World Wide Web Chamber of Commerce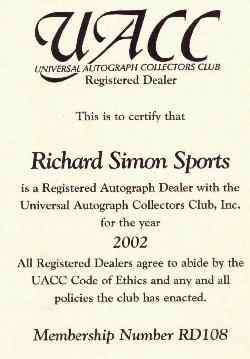 The Universal Autograph Collectors Club Registered Dealer #108
back to top